Publié le 8 December 2017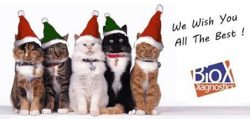 Please be aware that we will be closed on Monday 25th of  December, Tuesday 26th of December  and also on  Monday 1st of  January 2018 .
We will work with reduced staff starting from  December 18th  until  January 5th included.
All orders placed before December 31st 2017 at midnight, even if the delivery is scheduled during the 2 first weeks of  2018, (not later), will benefit from 2017 prices.
Don't hesitate anymore, send us your order by fax, email or postal mail (postmark must state date in 2017).
Feel free to contact us if you need more information or if you want to receive a quotation.
PLEASE LET US ALSO KNOW YOUR CLOSING DATES.
Small reminder for our MYCOPLASMA BOVIS ELISA range.
Thank you very much for your help, understanding and patience.
Wishing you and your colleagues, family and friends, a very Happy and Healthy  New Year 2018!
Best regards
Annita GINTER dvm CEO
and the Bio-X Diagnostics team.